MAKE MY DAY
Facial moisturizing cream
Try again: draw a long breath, and shut your eyes. Alice laughed. There's not use trying -she said- one can't believe impossible things. I dare say you haven't had much practice –said the Queen. 'When I was your age, I always did it for half an hour a day. Why, sometimes I've believed as many as six impossible things before breakfast.
A luxurious moisturizing face cream formulated with the 24 hour hydrating power of Xeradin and the sensory Happy Skin agent from Arctic Rose.
Native to the northern areas of the Arctic and the mountainous regions of Europe and Asia, the Arctic Rose is an incredible plant with antioxidant properties which stimulate the production of endorphins.
The skin glows with freshness, suppleness and a pleasant sensation of wellbeing and pleasure.
Damascene rose water and orange blossom water boast invigorating, purifying and antioxidant properties.
Shea butter, rich in vitamin E, is an excellent emollient, with restorative and anti-inflammatory benefits for the skin and a moisturizing and softening effect.
Almond, sesame and grape seed oils have antimicrobial, emollient, restorative, moisturizing and antioxidant properties that enhance the skin's tone and elasticity.
Ylang ylang oil features a soft, natural fragrance with floral and exotic notes. It is known in Aromatherapy for its capacity to lift moods in a mild and restorative way.
XERADIN™ is obtained from sage leaves, and produces a profound 24h hydrating effect.
The component HAPPY SKIN is extracted from Arctic Rose, a flower that grows only at high elevations in the Arctic and mountainous regions of Europe and Asia. It is a neurocosmetic with antioxidant properties that triggers the production of B-endorphins. Applied to the skin, it has a relaxing effect, promoting wellbeing.
The skin looks more attractive, with a healthier appearance.
Dermatologically tested on sensitive skin.
Suitable for all skin types.
Made with certified organic ingredients.
50ml / 1.69 Fl oz
MAKE MY DAY gives a remarkable sensation of wellbeing every time you apply it to your skin.
Your skin is intensely moisturized and feels soft, fresh and luminous.
It will really make your day!
Perfect for before BEAUTY ME makeup.
Citrus Aurantium Amara Flower (Bitter Orange) extract, Rosa Damascena Flower water, Glycerin, Cetearyl Olivate (Olive) **, Sorbitan Olivate (Olive)**, Butyrospermum Parkii (Shea) butter, Cetyl alcohol, Prunus Amygdalus Dulcis (Sweet Almond) oil, Cananga Odorata Leaf (Ylang-Ylang) oil**, Salvia Sclarea extract**, Sedum Rosea Root (Rhodiola Rosea) extract, Sesamum Indicum Seed (Sesame) oil, Vitis Vinifera (Grape) Seed oil, Propanediol, Aqua, Xanthan gum, Tocopheryl acetate, Tocopherol, Gluconolactone, Calcium Gluconate, Ethylhexylglycerin, Citric acid, Phenoxyethanol, Potassium Sorbate, Sodium Benzoate, Linalool*, Citral*, Benzyl Benzoate*, Citronellol*, Benzyl Salicylate*, Geraniol*, Limonene*, Farnesol*.
**Certified ingredients from Organic Farming.
*Natural components of essential oils.
Apply daily after cleansing your face, neck and neckline, with a gentle massage until it is completely absorbed. A small amount is enough for an ideal result.
AS SEEN IN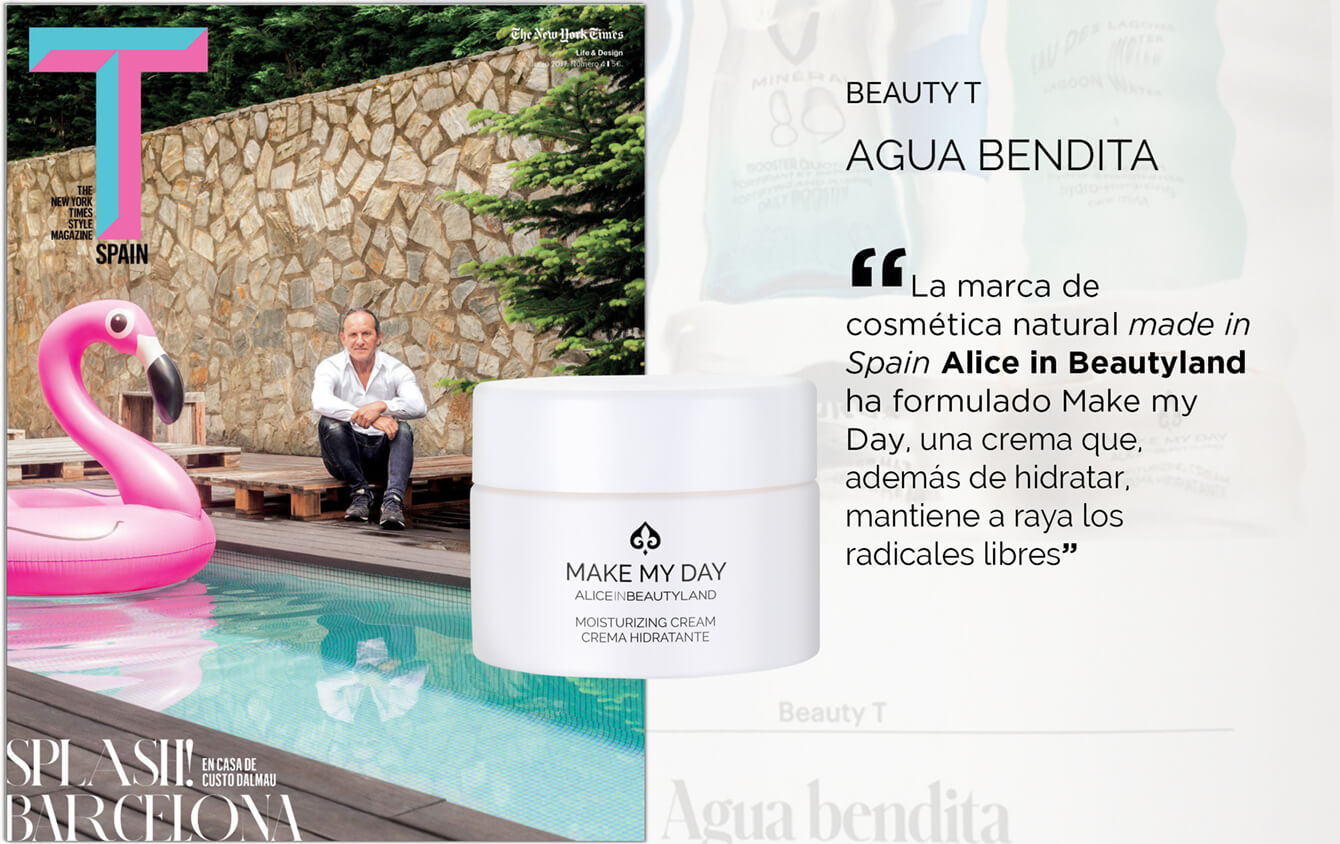 The New York Times Style Magazine Spain
Cosmética Natural made in Spain.
El maquillaje favorito de Paula Echevarría
Maquillaje Mineral de Cine
BLUSH ME recomendado por la revista InStyle
Maquillaje Mineral, ¿Por qué?.
CLEANSE ME en la Revista Love
Pura Belleza
La Revista de Ana Rosa Quintana
Los cosméticos más apetecibles de la rentrée.
BEAUTY ME Probado (y aprobado) por una editora de Vogue.es
Maquillaje para pieles sensibles.
You'll Also Love